Smiles abound at The Community Big Give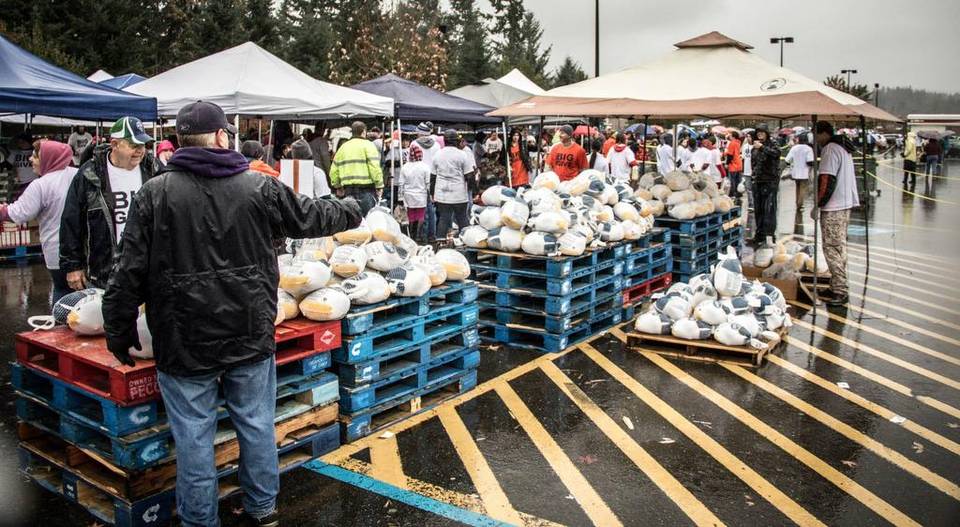 For the last five years, Open Life Church Sumner Campus pastor Brent Osburn and a team of volunteers and other organizations have stepped up to give those in need a Thanksgiving meal at The Community Big Give in Sumner and Bonney Lake.
Event organizers work with the Sumner School District and other local organizations to hand out vouchers to those in need as a way to track where clients come from.
"We track for the next year to see how well we did as an organization with redemption, and ask how can we better serve," Osburn said. "We want to help get food in the right place."
Originally, Osburn and Open Life Church did the Thanksgiving meal drive in 2010 to give back to Liberty Ridge Elementary School, which has the highest percentage of students on free or reduced priced lunch. The following year, local food banks wanted to partner, and The Community Big Give gained momentum.
"Last year, we gave out almost 1,000 meals," Osburn said.
This year's event was Saturday in the Fred Meyer store parking lot in Sumner and the Walmart parking lot in Bonney Lake. Event organizers say Sumner gave out 324 meals, which will feed 2500 people thanks to the help of 198 volunteers. Between the two sites, 793 meals were given and will feed over 4400 people with the help of 400 volunteers.
The Community Big Give has not only grown in number of meals given over the years, but also the number of volunteers who want to be part of something special.
"Everyone who volunteers sees the value in helping," he said. "We almost have an overwhelming amount of volunteers."
One of those volunteers is Lake Tapps resident Adria Esterbrook, who volunteered Saturday for her second year as part of The Big Give event. As a teacher, Esterbrook says the partnership with the Sumner School District allows teachers and other staff members to help their students have a Thanksgiving meal with their families.
"It's such a good feeling to give back," she said. "I love seeing the smiles on people's faces as you're loading the food into their car. It doesn't take a lot of time to make a difference."
The key to success for serving those in need at The Big Give is to make them feel comfortable as they walk through the line to pick up their Thanksgiving meals, Esterbrook said.
According to Osburn, each Thanksgiving meal bag handed out should feed about six people.
"Last year, I had a woman come through and say that because of The Big Give, they were able to invite their family over for Thanksgiving dinner for the first time in five years," he said. "It's amazing to see that meals can make a difference."
While Open Life Church is the main organizer of the event since the beginning, it wasn't until last year organizers and volunteers realized the impact of the event.
"Last year, we realized it was becoming a big deal," Osburn said. "We have an army of volunteers. Last year, we had to shut down volunteer sign-ups the week before because we had too many volunteers. It was a good problem to have."
Osburn stressed that the event is solely to help others.
"I love being able to see a bunch of people come together," he said. "It's just about helping people. I love seeing the families who come out to volunteer together."